Milling picks product cycle in 27 countries
The GTS Recycling program in 27 countries around the world helps complete the product cycle of road milling picks.
Summer is a period when construction work in all its forms traditionally culminates. We meet a lot of closures on the roads. And if we're not nervous in related traffic jams, we say to ourselves, that at least next time we'll go this way on a better road. First, however, it is necessary to mill the old asphalt, which consumes a lot of picks – grinding heads used for milling. These picks are made of carbide, i.e. using the appropriate amount of tungsten carbide to last as long as possible. However, tungsten is not easy to obtain because it is relatively rare in nature. And as its need continues to grow, tungsten ore mining leaves more and more traces in nature.
Here comes our GTS Recycling program. At GTS – Global Tungsten Solution, we focus on the purchase of worn-out road picks, the recycling of residual tungsten and its subsequent return to the production cycle in the form of raw materials for manufacturers of new road picks. We thus complete the cycle of utilization of rare minerals and contribute to reducing the need for further plundering mining.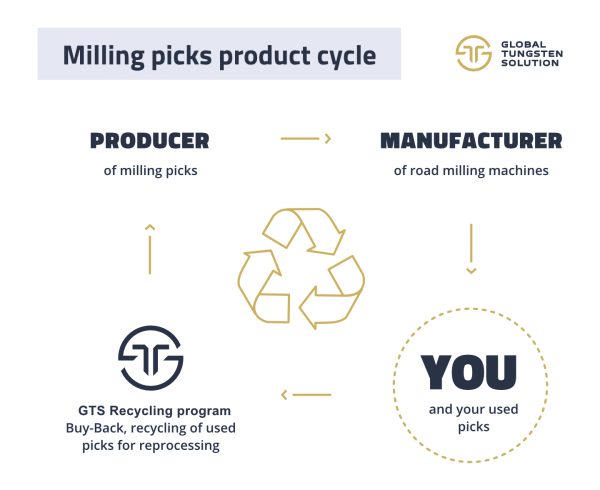 Join our recycling program to help protect the environment. At the same time you get:
the highest possible purchase price for your waste material,
a comprehensive service where we take care of everything including transport.
We already operate this way in 27 countries around the world and we will be happy to expand our scope to you as well. Contact us and help protect the environment!
27. July 2021